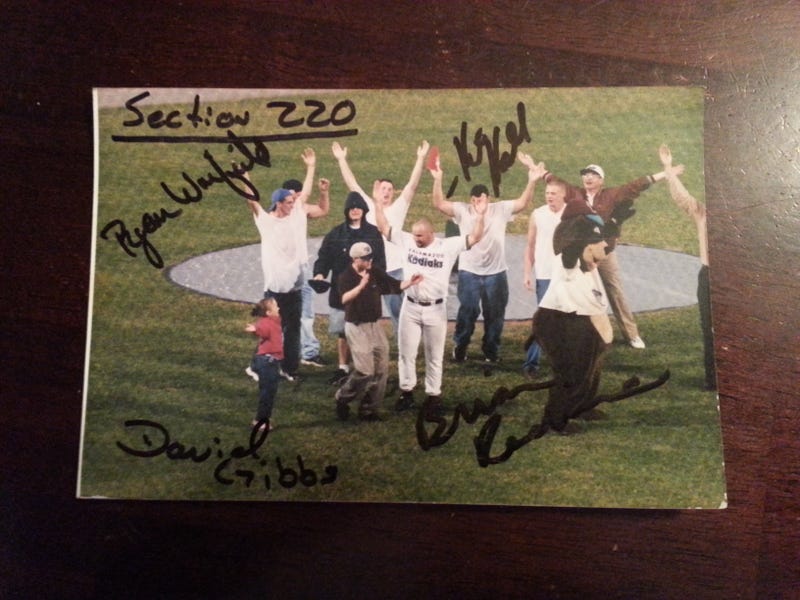 This is a story about friendship. This is a story about growing up, and being on the cusp of growing old. This is a story about last chances.
This is a story about baseball.
When you're 17, and you hail from a town with a graduating class just a shade over fifty, and work at a video rental store just enough hours to buy a tank of gas every week, any professional baseball is a big deal; never mind the fact that Frontier League baseball, which made its way to West Michigan in the form of the Kalamazoo Kodiaks in 1996, was unaffiliated ball on par with low class A talent levels. It was baseball. Complete with wooden bats, hot dog vendors, and players who actually got paid to play a game, some of them just kids not much older than myself at the time.
I didn't fall in love with baseball on the sandlots of the Gobles Little League fields. And as much as it pains me to admit it, I didn't fall in love with baseball while listening to Ernie Harwell call Tigers games on WKZO-AM, with a radio tucked away under my pillow. I fell in love - a true, deep love - with baseball at Southerland Field during the summer of 1998, from my seat down the third base line in section 220.
_________________________________________________________
The summer after you graduate high school is a magical little gap in one's life. A few months, gone before you know it, where you try to figure out what it means to actually make your own choices. When you try to squeeze every last moment in with your friends, because you know that school, work, and life will take you in different directions. At least we knew, the core group of our friends. I feel lucky that we all recognized that life would never be the same, and that we set out to make it our most memorable summer together. And it all started with a request that we were sure none of our parents would ever go for.
The Frontier League is "professional" baseball, in the same way that an acoustic singer playing for $75 at the local pub is a "professional" musician. Sure, it puts money in your pocket, but it's not going to pay for life's necessities. The average player in independent ball takes home about $600 in a month; if you average out the hours put in to practice and game play, that's about half of hourly minimum wage. A common solution in these smaller minor league communities is for area families to host a player in their home for the summer, in exchange for season tickets. My friend Brian's mom, fresh off of a divorce which left her a home with a spare bedroom, was cool enough to step in and offer to house one of the players.
His family was assigned a 20 year old left handed pitcher on the first day of training camp, whose name I never learned. Obviously, he didn't make much of an impact on his manager, either, because he was cut on the very first day. Luckily, he never unpacked his bags, so it made for an easy transition out of the house. And even better, the Kodiaks still honored our deal and provided our four season tickets.
The first home game of the season, I distinctly remember not wanting to go. It was a very rainy, miserable day in in mid-May, and I wanted nothing to do with being outside. After being pressured into going by the guys (I'm pretty sure the only reason they were so insistent was due to my newly acquired Buick Century,) I threw on my finest pair of jorts, along with a rain jacket, and I was reluctantly out the door.
Our season tickets were for general bleacher seating, but we considered that as more of a suggestion. With a team that pulled around 700 fans on a good day, even our group of six or seven could sit essentially wherever we wanted. We went for the box seats behind the visitor's dugout in section 220, probably so we could antagonize the opposing players. It didn't take long (to be honest, I'm not sure the game officially started) before the PA guy announced that the game was cancelled due to the rain.
Mike Zerbe, a stocky, power hitting first baseman in his second year for the team, decided not to let Opening Day pass without a show. He treated the crowd to a rain delay performance, a la Rick Dempsey, pantomiming an inside the park home run while sliding into every waterlogged base. The crowd, gathering to leave the park, stopped in their tracks and went absolutely nuts as Zerbe slid in to home. As he waved to the fans, we headed down the concourse and walked past an open gate to the dugout.
"Let's go out on the field!" I yelled to my buddies, as "YMCA" blared over the loudspeaker. The six of us wandered through the gate and on to the grass. No one stopped us, so Eddie, Brian, Tim, other Brian, Kevin and myself made our way to the middle of the diamond, doing our own rendition of the dance. Within seconds, Mike Zerbe came charging out of the dugout to join us, in what was now a complete downpour, to the delight of the small crowd that huddled under the covered parts of the stadium.
"Are you guys drunk?" Zerbe yelled over to us towards the end of the song.
"No, we're just baseball fans!" Kevin shouted back.
"Well, God bless America!" he replied, with a huge grin on his face.
After wrapping up that song, and sticking around for an encore of "Taking Care of Business" (complete with obligatory alligator dance), we got bear hugs from Mike and a round of applause from what was left of the crowd. The Kalamazoo Gazette beat writer caught up with us on the way out to our cars to ask us about the night, and we made the front page of the sports section the next morning. At that moment, we were hooked.
_________________________________________________________
That summer, our days were nearly carbon copies of each other. A group of six or seven of us would meet at Kevin's house. Half would pile into Kevin's Mustang (the ugly, mid 80's version that he loved more than life,) while Brian or I would rotate driving duties. From there, it was a race; Google Maps says the trip from Gobles to the ballpark should take 28 minutes. Doing 80 down the backroads, while taking turns passing each other, we'd make that trip in 18 minutes flat. It's amazing we're all still alive to talk about it. (Sorry, mom.)
The summer definitely had a soundtrack of its own. And if you were in Kevin's car, with his new stereo system, complete with a 6 disc changer that may have cost more than the car, your musical options were determined for you. You had the choice of Metallica's black album and "Reload," the Wallflower's "Bringing Down the Horse," Collective Soul's "Disciplined Breakdown," Bush's "Razorblade Suitcase," and of course, "Jock Jams." Brian's car was almost strictly 80's rock, while I bumped classic albums from that year, such as the "Godzilla" soundtrack, 311's "Transistor," some Third Eye Blind, and essentially the entire collection of Bad Boy and No Limit Records CDs that were available up to that point.
The ballpark also had its own soundtrack, using walk up music long before I ever heard it in a major league stadium. Naturally, our favorite song was when Zerbe walked to the plate to the tune of "Miami Vice." Mike Gardner had "My Maria," (the Brooks and Dunn version, ugh,) while Burt Higgins made "In The Air Tonight" cool long before The Hangover did. Win or lose, "Closing Time" by Semisonic accompanied our walk out to the parking lot. There isn't another song that I so closely associate to that summer. To this day, I hear any of these songs and I can feel the humidity on my skin and the heat of those molded plastic stadium chairs; I can still smell the odd mixture of ballpark food mingling with the sewage plant located beyond the left field fence. I wonder if this will ever fade? I hope with everything in me that it never does.
_________________________________________________________
Although we were only four or five years younger than Mike Zerbe, we idolized him after that season opener. We'd show up early to chat him up during warm ups, and stick around well after the game to talk about how the night went. During a special pot luck to honor the host families, the four of us who routinely used the season passes took a seat at our own picnic table. Zerbe, sitting with the other players, picked up his plate and joined us, asking us about school, baseball, and girls.
After a solid career at the University of Tampa, Mike went undrafted out of college. Undeterred and unwilling to part with the game he loved, he decided to give baseball one last try in the Frontier League. He ended up with the expansion Kalamazoo Kodiaks, a mainstay at first base where he still holds many offensive records for the franchise. He looked at this level of baseball the same way we did – if you can get paid to do it, why would you ever give it up?
I'm not sure we missed more than two or three home games that entire season. A fixture in section 220, our group was loved by the home players and staff, and hated by pretty much everyone else. When there's only 300 people in a ballpark, six or seven kids chanting for the pitcher to take his pants off tends to stand out. After a weekend's worth of heckling, the left fielder for the Richmond Roosters, a boulder of a man and sporting the exact haircut Wesley Sniped rocked in "Demolition Man," hurdled the fence and sprinted up the stairs to our section, challenging us all to a fight after the game. The team president came over to check on us, and hinted that we should make an early exit that night. He didn't have to tell us twice.
Around the all-star break, there were rumblings in the local media that the team was in jeopardy. Although you only had to look around at an empty stadium to see the writing on the wall, it was still a shock that it was a possibility. This team and the players weren't only good for a night's worth of entertainment – they were keeping us together as friends. As long as there was baseball to be played, dizzy bat races to run, and umpires to mock, why would we go anywhere else?
The team wouldn't comment publicly, but even the players were making plans to look at other teams or independent leagues. The Kodiaks had a winning percentage hovering around .350, and our chants and heckling would echo louder and louder off of the empty plastic seats with each passing game. Much like almost every relationship at that age, you convinced yourself that it would last forever in your heart, while desperately trying to silence the common sense in your head.
As the season waned, with still no word from the front office, we accepted our fate. There would be no coming back to Southerland Field the next year. After 13 years together, this would be our curtain call. It had to count.
The last game of the season fell on a Monday, August 31st, against the Evansville Otters. We arrived at the park hours early to tailgate in the parking lot, bringing along a portable grill, and an older brother of a friend brought us a case of Bud Light (which I refused to drink in the wide open lot). We played catch, flirted with girls entering the park, and tried our best to avoid any conversation that approached anything resembling feelings. College was starting in a few weeks, and real life was just around the corner.
Without looking at the newspaper article, I can't tell you who won or lost. (Upon further review, it was an 8-5 loss). I remember that night was the first time I ever heard "One Week" by Barenaked Ladies. I remember shelling out $50 for a jersey during the 3rd inning, in case I never had the chance to buy one again. I remember Kevin buying a Snickers bar for a reliever in the bullpen, a heavily bearded fellow who'd bark like a dog at random times of the game, and was the only opposing player we ever took a liking to. But the winning and losing – it wasn't what truly mattered to us.
As the game came to an end, we made our last walk down from section 220, waiting by the gate to be let on the field to chat with the players. The GM of the team stood on top of the merchandise counter, throwing out random jerseys, hats and shirts to everyone who walked by. My first thought was that I was an idiot for paying for mine just hours earlier; and then it hit me: they were officially done. We were officially done. There was no need to keep the merchandise for next year, for the Kodiaks ceased to exist on August 31st, 1998.
Once we got on the field, we shook hands with all the players we got to know so well during the season. Finally, it came time to say goodbye to our hero. The guy most like us – trying anything to squeeze just a few more days, months, years out of his youth. He asked us to meet him out by his car in the parking lot because he had something for us. On the way out, Kevin somehow dislodged and stole the home plate from the bullpen and tucked it under his shirt. He always had a knack for lifting things without drawing attention.
We tracked down Zerbe in the player's parking. Someone ran to our car and grabbed a can of beer, so we could share a drink with our friend. There, hidden in the darkness of the unlit lot and passing around a can, I had my first taste of Bud Light. It was terrible. Mike laughed as we asked him to sign the stolen home plate (something to the effect of "To the boys of Section 220…you guys are f'n crazy!!") and the homemade "Save Our Kodiak" sign. He reached in his car and pulled out a photo – it was a picture of the opening day rainout, a bunch of idiot fans doing the YMCA on the field in a downpour. "Would you guys do me the honor of signing this?"
_________________________________________________________
As the years passed, some friendships faded, while others strengthened. The best man in my wedding, Brian, was one of those diehards from that summer of '98. David and Eddie, although both younger than me, grew to be very close, too. Others, like Tim, Kevin, and the other Brian, (my best friend since kindergarten,) developed different friends and interests, as did I. It wasn't anyone's fault; that's just life.
As the years passed, and the internet became more prevalent, I would occasionally do searches for Mike Zerbe. I found out that he's the brother of former MLB player Chad Zerbe, and even discovered his career minor league stats. He hung around the Frontier League for another two years, playing first and outfield for the hated Richmond Roosters. But after that, he did a great job of staying off the grid. When I joined Facebook in 2011, he was one of the first people I did a search for. No luck.
14 years after I last saw Mike, I signed up for LinkedIn as a requirement for work. Interestingly, a Mike Zerbe popped up as a hitting instructor in Tampa, Florida. It had to be him, right? He almost immediately accepted my connection request, but his profile gave few clues. It sat there for nearly a year before I finally got the guts to send him a direct message, asking him if he was the same player from the Kodiaks. He replied the next day:
"Were you at the game when I did the YMCA in the rain? I remember having my cheering section on the field with me. You were one of the guys that always sat down the left field line. I hope that I remember that correctly. You guys were awesome. I enjoyed playing for you. Your enthusiasm helped me thru a lot of bad days. I cannot believe that you still have a signed baseball from I when played. Please send me your email address. Have something I want to send you. Now I am the one sounding weird."
Within minutes of my response, a message popped up in my mailbox – it was the photo that we had signed 15 years ago, and that he had kept the whole time. With the attachment, another note:
"Some memories never fade. Thank you for cheering me. God bless, prayer works."
I was immediately overcome with emotions upon opening the attachment and reading the note. Were we on his mind all these years? Did we actually mean as much to him as he did to us during that summer? I never worked up the nerve to ask him. The picture was more than enough for me. I scanned all of my newspaper clippings from that summer and sent them to him, which his wife appreciated as much as he did. I haven't communicated with him since, mostly because nothing could top that exchange. But it's a comfort to know that I can reach out to him whenever I feel the need to remember what it was like to be 17 again.
_________________________________________________________
It's the most perfect picture I've ever seen, and it's currently (and probably always will be) my desktop wallpaper. There's me, in the stupid blue poncho, looking like I'm miserable but was actually having the time of my life. Zerbe was dead center, and behind his left arm was Kevin, with Tim to his left. Directly behind me is my best ginger friend, Brian, and to his right was the other Brian. And the kid on the far left of the picture, in the blue hat with the biggest smile and his arms raised the highest, was Eddie.
Eddie is the reason I'm writing tonight. 16 years ago, we knew we would end up losing friends. But you don't expect to lose friends. Even if you drift away from each other, you can take comfort in knowing you can reach out and reestablish a friendship. A few weeks ago, I learned that I'd never have a chance to reach out to Eddie again. So here I am, 5:00 in the morning with a nostalgia weighing on me so heavy, I felt this was the only way to attack it. And for the rest of my life, this photo is how I choose to remember my friend – completely full of joy.
As Tom Ley once wrote in a fantastic piece for Pitchers and Poets: "We often forget that the smallest of actions can determine how moments become imprinted onto other people's memories." The actions of Mike Zerbe caused a bunch of kids to feel like they were somebodies. The simple action of a photographer who stuck around in the rain captured one of the greatest moments of my life. And the actions of a group of friends, who wanted nothing more than to spend every possible day together before the real world intervened. These were the actions that became permanent moments, forever frozen in youthful exuberance.
"Closing time, every new beginning comes from some other beginning's end..."